Interstellar
Interstellar, this year's Gravity, a space and time travel epic, is well worth seeing in a large theater with an audience – the true cinematic experience. It is important that you go see it on the large screen, if you choose to wait until it comes out for home viewing you will likely not appreciate it to the level that it deserves. Potentially not the best movie of the year on some lists, but definitely the most ambitious and visually impactful to come out in a long time. I loved it and would highly recommend this film.

St. Vincent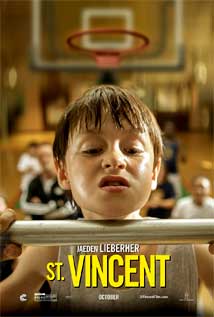 Each year one movie becomes the surprise gem that everyone goes to see. Last year I said it was Parkland and this year it is St. Vincent, starring Bill Murray, Melisa McCarthy and Naomi Watts and Jaeden Lieberhaer. At first glance one might say, based on the outstanding cast, St. Vincent would be a slapstick comedy. It is far from slapstick! It is a dramedy about a young boy, Oliver, who is dealing with his parents' separation. He moves to a new neighborhood, new school and finds an unlikely friend in his new neighbor, Vincent.

California Independent Film Festival
The California Film Festival (CAIFF) is excited to present another year exhibiting a diverse array of films from around the world. The festival has also honored actors and filmmakers including Richard Dreyfuss, Martin Landau, Cloris Leachman, Tony Curtis, Rita Moreno, Diane Ladd, Penny Marshall, Ed Asner, Tippi Hedren, Barry Morrow, and others. The festival takes place at the New Rheem Theatre in Moraga, The Orinda Theatre, and The Castro Theatre in San Francisco.

Mill Valley Film Festival
Since founding the Mill Valley Film Festival in 1977, Mark Fishkin has shepherded this once small, three-day showcase into an eleven-day, internationally acclaimed cinema event presenting a wide variety of new films from around the world in an engaged, community setting. The festival has an impressive track record of launching new films and new filmmakers, and has earned a reputation as a filmmakers' festival by celebrating the best in American independent and foreign films, along side high-profile and prestigious award contenders.