Suffragette
I have always enjoyed movies that make you think about our society and the development of human rights over the centuries. "Suffragette" is one of those films that deals with women focusing on their right to vote in England at the beginning of the 20th century. It should be noted that the film is based on actual events, but the characters are fictional. The movie is centered around a young married laundry worker, Maud Watts, portrayed by Oscar nominee Carey Mulligan ("An Education").

Bridges of Spies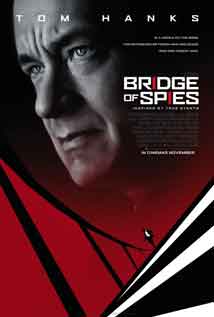 "Bridge of Spies" opens as a masterpiece displaying the art of motion pictures with the use of artistic cinematography to set the thriller tone of the movie. The first several minutes of the film have no dialogue - the picture tells the story. The viewers are introduced through the camera lens that the FBI is on the trail of a Soviet Union spy, Rudolf Abel, masterfully played by Mark Rylance ("Bing," "Wolf Hall"). Rylance's performance reminded me of James Whitmore's amazing performance in "The Shawshank Redemption.

California Independent Film Festival
The California Film Festival (CAIFF) is excited to present another year exhibiting a diverse array of films from around the world. The festival has also honored actors and filmmakers including Richard Dreyfuss, Martin Landau, Cloris Leachman, Tony Curtis, Rita Moreno, Diane Ladd, Penny Marshall, Ed Asner, Tippi Hedren, Barry Morrow, and others. The festival takes place at the New Rheem Theatre in Moraga, The Orinda Theatre, and The Castro Theatre in San Francisco.