Hello, My Name is Doris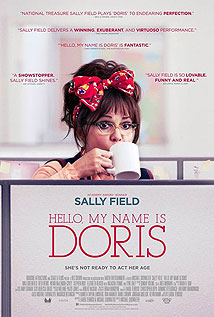 Two time Oscar winner Sally Field is back on top of her game doing what she does best – making an audience "like" her. In Hello, My Name is Doris, Field plays an older woman, Doris, who, after seeing a self-help guru, gets the courage to romantically pursue a much younger co-worker. Sally makes the movie and you just want more of her, much like the olden days in her roles in Smokey and the Bandit, Norma Rae and Places in the Heart.

California Independent Film Festival
The California Film Festival (CAIFF) is excited to present another year exhibiting a diverse array of films from around the world. The festival has also honored actors and filmmakers including Richard Dreyfuss, Martin Landau, Cloris Leachman, Tony Curtis, Rita Moreno, Diane Ladd, Penny Marshall, Ed Asner, Tippi Hedren, Barry Morrow, and others. The festival takes place at the New Rheem Theatre in Moraga, The Orinda Theatre, and The Castro Theatre in San Francisco.